Florida State University Search
Tallahassee-Leon County Civil Rights Heritage Walk
---
Master Craftsman Studio was presented with a 2014 Tallahassee/Leon County Historic Preservation Award for our work on the Civil Rights Heritage Walk. This installation, which documents our local civil rights movement is located on the corner of Monroe St. and Jefferson St. in downtown Tallahassee, which was the site of the lunch counter sit-ins. We were honored to receive this Craftsmanship Award Of Excellence.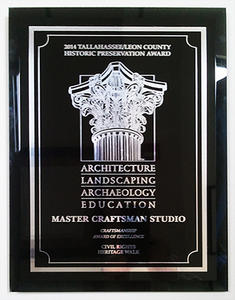 2014 Tallahassee/Leon Country Historic Preservation Award
Installed in June 2013, the Tallahassee-Leon County Civil Rights Heritage Walk commemorates just some of the courageous "foot soldiers" that were integral to the civil rights movement. Sixteen terrazzo panels recount inspirational messages, notable protest signs, Leon County's 1960's lunch counter sit-ins and 1956 bus boycott. The names of the "foot soldiers" are honored by embedded brass footsteps. Reaching over seventy-two feet in length, the sidewalk monument resides in downtown Tallahassee. The artists at the Master Craftsman Studio are proud to be the creators of this monument.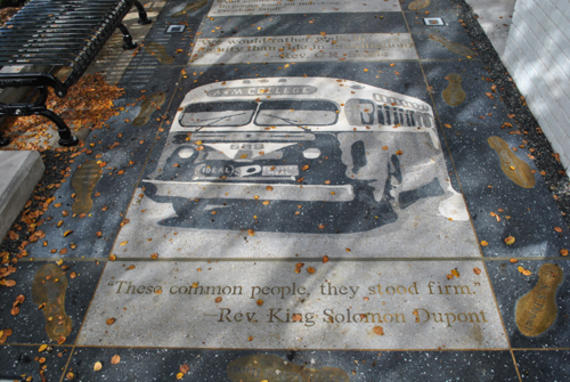 One of the installed terrazzo panels of the monumental Heritage Walk.
The Tallahassee-Leon County Civil Rights Heritage Walk was officially unveiled on September 30, 2013 by the Tallahassee Community Redevelopment Agency, the City of Tallahassee and Leon County Government. A map of its location is provided below.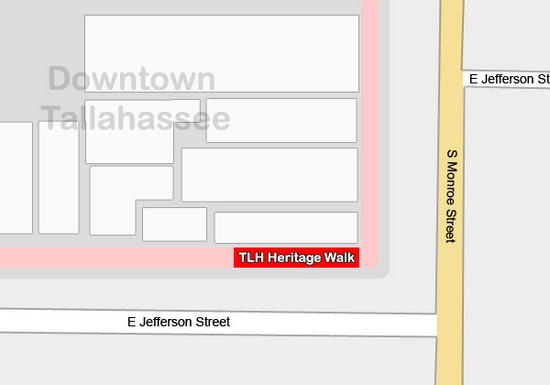 Map of Civil Rights Heritage Walk
Many articles about MCS' involvement and the Tallahassee-Leon County Civil Rights Heritage Walk have been published since the unveiling. Here are a few:
Byron Dobson: Heritage Walk holds lessons and inspiration | Tallahassee Democrat Heritage Trail honoree: 'I think we made a difference in Tallahassee' | Tallahassee Democrat Tallahassee-Leon County Civil Rights Heritage Walk | The Florida Memory Blog