Florida State University Search
Clery Act Drill at Health and Wellness

10/19/2023
---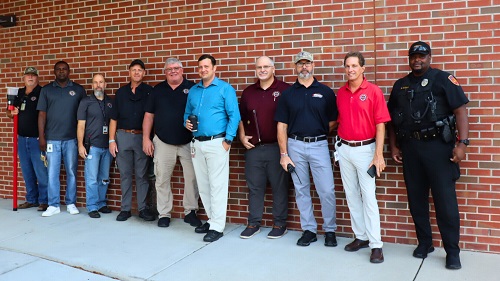 Multiple university and community partners collaborated to ensure the success of the Clery Act drill
Facilities' Environmental Health & Safety Department conducted a successful drill on Thursday, October 5, at the Health and Wellness Center. A joint exercise between Environmental Health & Safety, the Health and Wellness Center, FSU Emergency Management, FSU Police Department, Tallahassee Fire Department, and Assa-Abloy (door control contractor), the drill served as a test of the FSU Alert System, an evacuation and fire drill, as well as an inspection of all fire alarm system components.
The FSU Alert system test element was unique to this drill. FSU performed the test under routine Clery Act Requirements, a federal crime reporting act that requires colleges and universities to give timely warnings and emergency notifications. At 8:15 a.m., FSU Emergency Management dispatched a "hazardous conditions" message test through the FSU Alert System. The evacuation drill component began simultaneously. The team verified the successful exit of nearly 500 students and staff from the Center.
Following the evacuation, Environmental Health & Safety's Fire Safety group inspected the building's initiating devices, such as smoke detectors and notification devices like strobes and horns. The smoke control system was also fully activated during the drill. Smoke control systems are mechanical systems often installed in buildings with large multi-level atriums like the Center. In the event of a fire, they direct smoke upwards, reducing the smoke in lower levels and allowing for safer evacuation routes for evacuees and emergency response teams.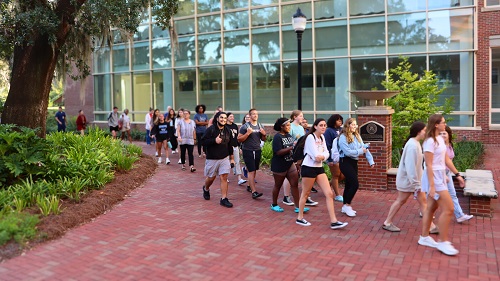 Students reenter the building after FSU Emergency Management sends the "all clear" message
Upon Fire Safety's completion of all inspections of all systems and equipment, FSU Emergency Management sent the drill "all clear" message at 8:45 a.m. Routine fire drills and inspections foster a fire-safe atmosphere on campus. Facilities extend their gratitude to our Environmental Health & Safety Department and the multiple university groups and community partners collaborating on this multifaceted drill, making it successful.